COMMUTE ON YOUR BIKE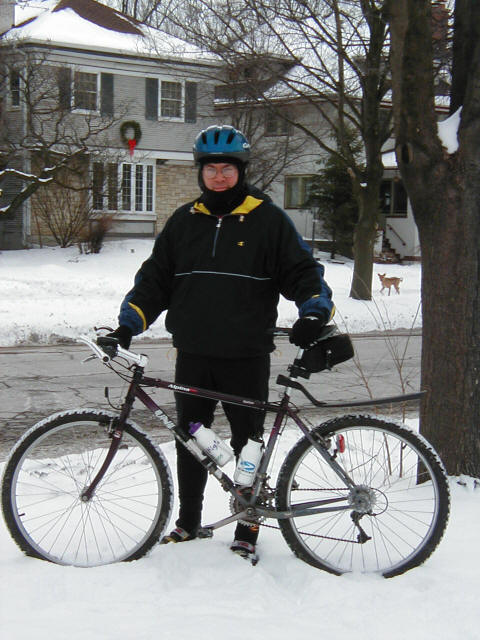 What we have here is a recipe for commuting machine for the athletic cyclist. It came together over three years of commuting, winter and summer, across Chicago's wild and wooly west side. The daily ride is about 9 miles, on city streets. This isn't a ride for your $3000 Orbea (too attractive and too flimsy) or your 10-inches-of-travel mountain monster.
The bike
Start with a hard-tail, no-suspension mountain bike. I like a decent steel bike, the sort they made until recently. Mine's a Univega Alpina, but an early Trek will do, just something not too heavy, with no unneeded or complicated suspension parts. Or I really like the new cross-terrain bikes like the Bianchi Boardwalk - but you might want something older/less attractive since you're possibly leaving it outside.
Gears - Mountan bikes have crappy gearing for the city, so change it out. Get a road-style cassette, and swap it in. You'll lose that HUGE range, but you'll have a lot more comfortable gears.
Fenders - A must. PlanetBike makes a pair, and I really like the ones I got from Lickton's Cycle City here in Oak Park.
Security - Mine has Kryptonite Secure Skewers - which are like "really slow release" for the wheels. So far, I've left it locked on the street in downtown Chicago and never had anyone mess with the seat or wheels. Looks like Kryptonite stopped selling them after the lock debacle, but another brand, Pitlock, is available.
Bags /Rack - Gotta get your stuff downtown, right? Bill (my riding buddy) and I like the Topeak bag and rack setup - fast on, fast off, and it'll let you carry a suit and a laptop if you're careful. They change all the time, but I like this one with this rack. The lock that comes with the rack isn't so great, but the rack will hold your Kryptonite.