OK, I'm a geek. I admit it. But let's face it, we do live better through science. Figuring out how is a minor hobby of mine.
So, with that, you need to know about our road trip this summer, and how geeks do it. We rolled out of our hometown with 1250 miles ahead of us, 2 kids, a dog, and three Britney Spears CDs.
Our peak techno-moment? Thursday, on the way out. LJ took the wheel and pulled out of a Wendy's in Toledo. I plugged the laptop into the lighter, and the GPS into the laptop. It took a few minutes to install DeLorme Street Atlas 7, which the folks in Freeport had delivered to my house the day before. Five minutes of play, we were good to go. Literally.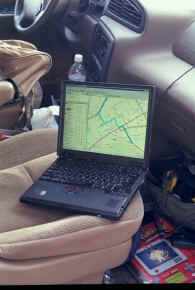 A quick scan of the previous evening's web computer printouts showed every showtime for Pokemon the Movie 2000 between Toledo and Buffalo. A few tweaks to Street Atlas for our chosen driving speed, and then review for showtimes that aligned with our ETA. Tower City Cinemas in Cleveland won, hands down, with a 6:05 showing - 12 minutes after arrival.
Why was the movie so important? Thursday was the last day that all attendees were guaranteed an Ancient Mew card, holographic. And We Promised! (See picture)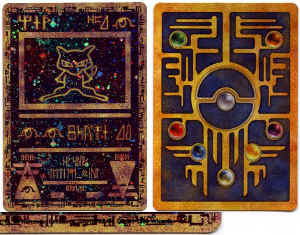 So, the van eased to the curb at Tower City, a new mixed-use warehouse rehab with shops and movies and more (but not with a lot of tenants yet) and LJ took the kids in. My PCS phone stood ready in case of problems, and I waited for ten minutes, sitting on the curb with the dog, in case it turned into a Negative Cinema Experience.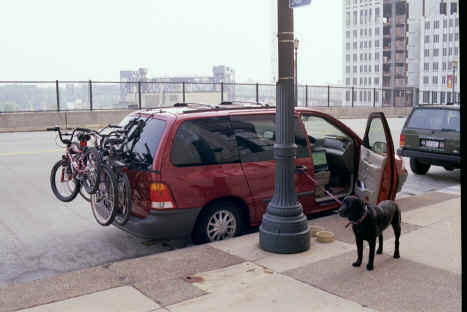 Then Pinot and I went in search of the perfect restaurant - our criteria were as follows:
| | |
| --- | --- |
| | Near the theater |
| | Not a chain (Shlaes family rule) |
| | Sidewalk dining |
| | visible parking |
| | a place to tie up the dog |
| | Food fit for adults |
| | Something the children would eat |
It took five minutes to reject the Flats, with was overrun with Hooters and Joe's Crab Shack and such, and where sawhorses were already going up to contain anticipated zoo crowds. A quick Street Atlas search plastered the screen with knife/fork icons, and Pinot climbed into the passenger seat to scan for likelies. We settled on D'Vine, a wine bar and Tapas joint (say it out loud) with a big parking lot across the street. And, they liked my dog's name. So, Pinot and I had an hour still to kill. (D'Vine, 836 W. St. Clair Ave, Cleveland 44113 (216)241-VINE.
Time for a quick tour. We flagged the restaurant and theater, and a couple of landmarks, and set out. A few interesting neighborhoods, the lake, and enough exploring to know we'd found the best restaurant , and we were back in front of the theater in time for LJ's exit.
Thank goodness I'd packed earplugs for the movie.
Dinner was everything we'd expected, and more. What was described as "tenderloin medallions with new potato/cheddar blini" was sold to the kids as "little steaks and cheese tater tots" and went down without difficulty. LJ had a flight of "anything but Chardonnay" and I had a few sips. We still had 130 miles to Buffalo, and it was 9:30.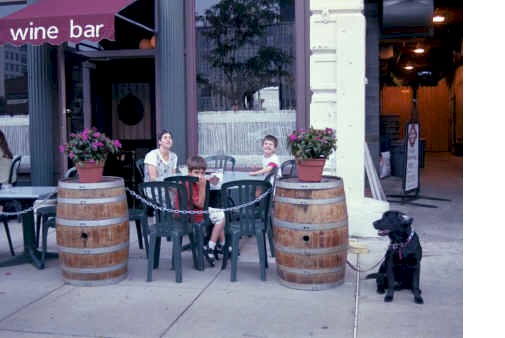 We'd already used our phone and system to rebook our hotel. The kids should enjoy the road-trip experience of waking up in a cheesy motel, and having a big hearty breakfast. So the Lord Amherst Motor Court was our next stop. Dog-friendly, clean. And by Dog-friendly, I mean that I was listening to the proprietress expound on the merits of her greyhound, when Pinot, our Labrador pup, squatted and left an easter egg on the hotel lobby floor. Our hostess didn't even stop talking, she just handed me some paper towels and Lysol, and went on about her dog.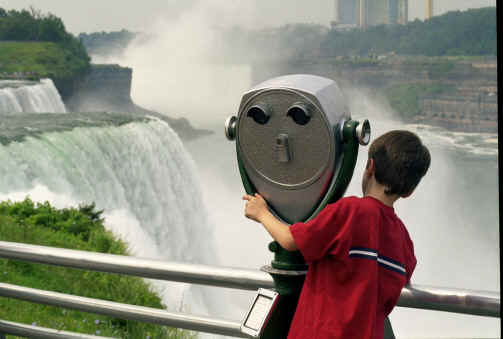 The next morning, of course, Niagara Falls. I mean, ya gotta. A quick hour, and we were on our way.
Our destination? Dinosaur BBQ, in Syracuse, NY, by lunchtime. Reed had said "Oh, man, there's this great barbecue place in Syracuse, but it's impossible to find." Reed, nothing is impossible in the techmobile. Thanks to a quick search beforehand, we had the address of this biker bar/BBQ. Hey, it met all our restaurant rules! Definitely not a chain, park across the street, first rate ribs, and a dog-friendly porch. And a convenient tattoo parlor upstairs Highly recommended, and worth the detour. If you can get used to the conversation-shattering effect of a vintage Indian starting up, you'll enjoy the porch. Oh, and amazing baked beans. We waddled back to the van, opened the vent windows 'cause of all the beans, and hit the trail.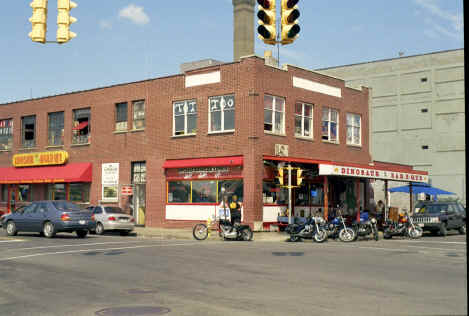 Time for more techno-experiments. We'd installed another DeLorme product, Map&Go, that has complete AAA listings. So the natural thing was to challenge it. Vietnamese food, in the Berkshires. Thirty seconds later, we were ready. Four hours later, we were there. Truc Orient Express, in West Stockbridge. (413)232-4204, if you want to check it out. A friendly chef in the restaurant next door came outside when she saw the puppy. "Do you think he'd like a nice Osso Bucco bone?" Of course. So the dog sat outside, and we dined on spring rolls and young papaya salad. The bone was gone when we got out of dinner. Hmmm. A few more hours driving, and listening to Alan Arkin's The Lemming Condition - a great fable about conformity and its risks.
Then to the Marriott, which accepts dogs, but is a very businesslike hotel. Pinot's toes clicking across the marble lobby raised a few eyebrows in the cocktail lounge, but we were in. The next morning, the kids were watching Pokemon in French, and Pinot had shown us why he shouldn't eat Osso Bucco. Oops.
From the hotel, to my e-pal Don Fluckinger's house. You may remember Don for his column, I'll Bid on Anything - We'd never met, and though we'd exchanged phone numbers, Don and I both figured out how much cooler it would be if we met without hearing each other's voices.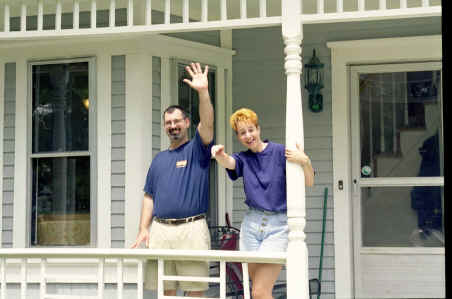 Don and Kate were waiting on his porch when we pulled up. The GPS led me to the front door without difficulty. We showed them the pup, who scared the heck out of their greyhounds (which are turning into a motif for this trip) and we tucked into a great lunch of those weird fluorescent hot dogs they serve out east. As a Chicagoan, I believe that relish should fluoresce, not meat.
Strange thing about e-pals. There's a lot of physical stuff going on in the first few seconds of meeting someone, that decides whether you'll strike up a conversation or not, and whether it'll survive that initial contact. Rhythm of speech, height, who knows? But when all you have is text, it's different. The 'net has already sorted you out, by the common interests that connected you. Maybe not many, in Don's case it was his new Honda Passport (and, of course, the web) and that I enjoyed his writing. (He says he likes mine, proving that Don is a kind and generous soul. ) But while part of you sorts out the look/sound/gesture stuff (I wasn't expecting a midwestern twang) the rest of you talks to an old friend. At every turn we have something else in common - "Wanna see my fountain pens?" Dogs, pocket watches, good marriages, you name it.
Even so, we bid Don, Kate, and their greyhounds goodbye and started on the final leg. The last stop? Eartha, of course, the world's largest globe. Hard to find? Not really - it's the default location on Street Atlas, and it's owned by DeLorme.
More to come - the trip back!
Tricks learned this trip.
| | |
| --- | --- |
| | Dogs will take children's Dramamine. And should. |
| | You need the rabies certificate, not just the tag, to cross Canada. |
| | A rabies booster costs $32. Pinot has a nice Southwest Harbor Maine rabies tag souvenir. |
| | The trip meter on a Ford Windstar resets at 1000 miles. |
| | Masking tape will keep the GPS from falling off the dashboard quite so often. |
| | DeLorme GPS maps can be off by as much as two miles in Canada. |
| | There are 1.8 calories in a Pepperidge Farm Goldfish |
| | There are 1006 goldfish in a bag |
| | O. knows how to use the calculator on a PalmPilot |