April 24, 2011
Pinot 1999-2011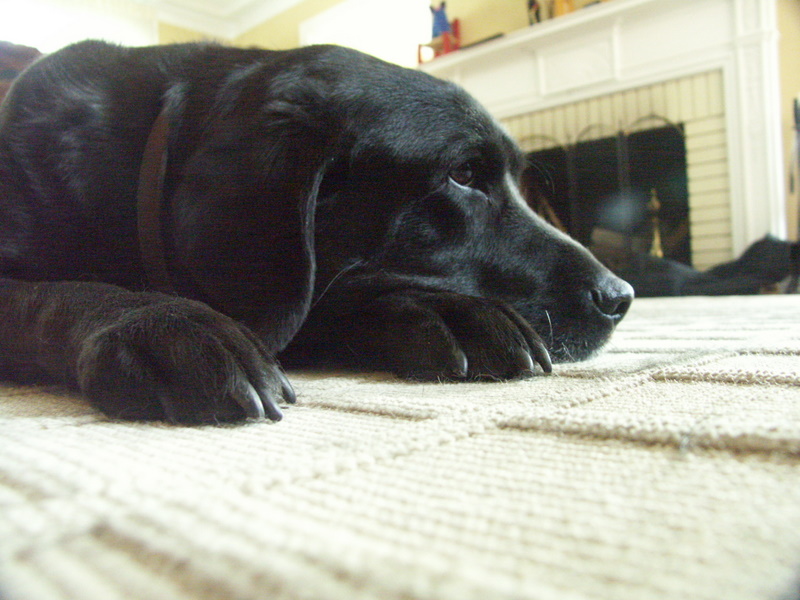 Remarks at Pinot's memorial
When we planned this thing, we were in pretty rough shape, but I still had my doubts about a memorial for a dog. I thank my father for being the first person to ask if we were doing this. Pinot was a dog worth celebrating.
I'm very sorry to report that we lost our beloved Pinot on Monday. He was 11 years and four months old. Born on Christmas, 1999, he came to our house ppon Valentines Day 2000. He was a purebred black Labrador, with the full name of Riverroad's Pinot Noir Shlaes, the scion of Trader and Sparrow, both champions.
He was enjoying the company of Guinness, but he had definitely lost a few steps over the last couple of years, had fought wit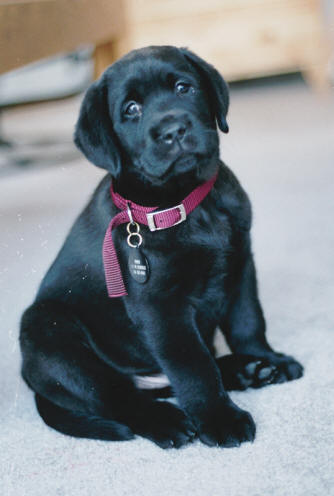 h repeated medical problems, and struggled to get into the van for dog park, or up from a slippery wooden floor.
On Sunday he ate something he shouldn't have, and needed surgery. During surgery, we learned the cause of all of his health problems, and they did their best, but he didn't make it. It's pretty clear that he left at the right time, and he didn't suffer. And we got to say goodbye.
When the dog park was at Lindbergh, he was its mayor - walking up to total strangers, offering a paw, and smiling until the stranger took it. Of late, he had become a snapper, which was a rude surprise to his biscuit-giving friends. But he was contrite, and careful.
I'm sorry I ever called him overbred - his hips were fine, until lately, and his eyes were only a little cloudy. But we suspected that Sparrow and Trader were bred for looks and disposition, and not for other more basic characteristics. He didn't like to swim, and would wallow near the shore with an embarrassed look, knowing that he was letting his breed down. Unlike other labs, he quickly grew bored with retrieving. He didn't seem to notice squirrels or birds, and in his running dreams we said he was weaving between bunnies on his way toward a distant bowl of food.
But he had a genuine smile, a thoughtful gaze, and the softest ears in the world. He was our ambassador on countless road trips, and sneaked into motel rooms across the country with his head held high.
He was an accomplished traveler. In 28 thousand miles of cross country driving, he spent two months of his life sneaking into motels. He saw 10 states, two canadian provinces, and passed more than six months in Maine. He only ever saw it in August, and must have wondered why we ever came back. He climbed most of the mountains in Acadia National Park. He was an honored guest at Secret Caverns and the Kingston Army Surplus Store, and had a friend living at a motel in Skaneateles.
He was polite in the extreme, to the point of awkwardness. In his prime, he wouldn't enter a room without asking. Even as a puppy, he was keen to Oliver and Jonah's sadness, and would lean in with an appropriate nuzzle. This, more than most things, is missing today.
He persuaded several people that they needed dogs in their lives. A neighbor approached to me at a party and said "I don't know another way to say it - your dog is a really nice person." She got two dachshunds a while later. Other people did similar things. I'm sure they love their dogs, but I'm also sure that if they stop to think about Pinot, they're a little disappointed.
In some ways, it's a lot like the death of a human - medicine, silence in the house, this nice memorial. But in other ways it's not. I can't think of anything he wanted to do and didn't. I don't wish he'd finished that book, or gone to Katmandu or anything like that. He was beautiful, and we loved him, but he didn't suffer, and the sadness is ours, and there's not much regret in it.
Guinness, who is somewhere between his pal and his widow, seems to take it well, except at 5 AM. Now she wakes us, instead of Pinot, but she's growing fast, and learning to wait until we come downstairs.
On Monday it snowed, a freak April storm. He loved snow, and fresh grass, and would roll in either with abandon, the way a lesser dog might roll in something stinky.
I'm sorry he missed it.