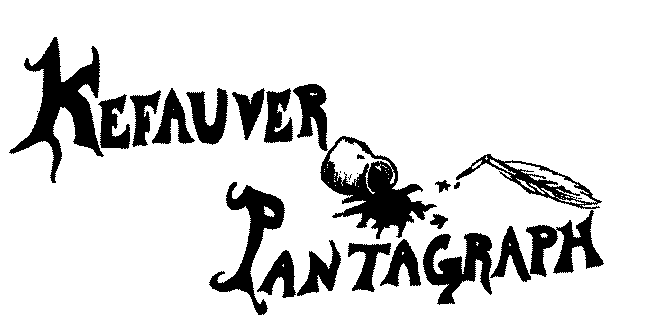 Fun Fact - After WWII, Stevenson worked with Archibald MacLeish, then Assistant Secratary of State. MacLeish later wrote J.B. - Doc G's favorite head-scratcher.
History
The Kefauver Pantagraph was published in Prairie View, Illinois in early 1980. It brought together a ragtag team of reporters, editors and photographers in a confluence the likes of which has not occurred since. Named by its Stevenson High School staff for Governor Stevenson's presidential running mate and family newspaper, it baffled students and teachers alike for a few months in 1980. It also kept a lot of intelligent teenagers from finding other, perhaps more destructive outlets for their creativity. This, perhaps, is its most enduring legacy.
Depending on how you saw it, the Pantagraph was either a harmless exercise in creative writing, or an attempt to get the National Honor Society banned from Stevenson High School. Under the reluctant guidance of "Doctor" Granner, it produced three (I think) issues late in the school year. No issue was taboo - a tourist guide to O'Hare Airport - Vacation Wonderland, challenges to the questionable architecture of the lighted sign outside Stevenson High School, and the infamous "Shroud of Prairie View" - the cover from Governor Stevenson's congressional seat cover (our History was a bit confused) which, when viewed in a rare Rectal Eclipse, shows the image of that portion of Stevenson that was nearest to it. (The secret of who actually sat on the copier to create this image remains a secret.) Its crew collected funds from the teaching staff at SHS and spent a large part of the summer shooting a film.
The Staff
Under the editorial direction of Noble Eric Kizer, it included Eric Janssen, Kurt Janssen, Tom Lutz, Mike Lutz, Frank Felsl, John Kochendorffer, Jim Carroll, F. Scot Potenz, and Noah Shlaes. I was included in this crowd because I owned an electric typewriter. It will become apparent in the issue shown below that having a typewriter didn't mean I was a typist.
I've put this page out here to see if anyone else is interested in the Pantagraph. So if you're the kind of pathetic web dweeb who searches for his own name and minor high school achievements, (as, admittedly, is your webmaster) this is your big payoff. Click here to send a message if you have other copies, pictures, whatever.
The Movie
Yes, the movie - available NOW on YouTube. Check out the Pantagraph team's immortal cinematic masterpiece, "A movie" - the epic tale of a Pink Flamingo's voyage toward Encino.
The Paper
The first issue is available in PDF format - Click here!
Also, thanks to onetime SHS exchange student Wolfgang Eichhorn, the famous issue 3 - with the Shroud of Prairie View - available in low resolution (loads fast) and high resolution - See every detail of the Shroud!
Brought to you by Shlaes.com