Big Ideas
On Writing
Sin and Syntax - this volume, by an editor of Wired, is that rarest of things - a thriller on English usage. If it doesn't change your writing, you can't be changed.
Chaos: The Making of a New Science - James Gleick - The mathematics of chaos underlie everything from heartbeats to weather, from market behavior to the dunking bird. While there are better books on the mathematics of chaos, this is perhaps the most readable introduction.
The ascent of the child - evolutionary perspective as seen from a different hypothesis - that the child, not the adult, is the driving force behind human evolution - the huge head, the long gestation, and many other unexplainable risks that are inherent only in humans. See also The Ascent of Mind, for another perspective on forces behind evolution.
The Wreck of the Medusa- I found this one when my very literate neighbor Tom had a yard sale - it explains the history and scandal behind Delacroix's controversial painting. The canvas is remarkable, but it's hard to understand that this painting was the Chondra Levy, Tonya Harding or trapped miners of its day.
Another find in Tom's garage sale - The Map that Changed the World - Simon Winchester's book gives the history of William Smith's heretical discovery of the underlying geologic structure of England, and the birth of geology. This is key to understanding the fuss about evolution.
Dava Sobel's Longitude - Brother Bruce gave me this one (I think) - another crackerjack thriller about a discovery we take for granted - how to use a clock to figure out where you are, and the battle for the first accurate timepieces.
Ray Bradbury's Something Wicked This Way Comes - I try to read this every October or two - just to put a little wonder back into Halowe'en.
The Quiet American - Graham Greene - Some of the most beautiful prose in print.
Jonathan Lethem's Motherless Brooklyn - Mary recommended this author - but this book knocked me on my butt from page one. A great glimpse into another kind of mind, with tight, funny language and a good story. But it's not about the story, it's about the language. (See Riddley Walker elsewhere)
One Hundred Years of Solitude - Gabriel Garcia Marquez - Has the single best opening sentence I've ever read. What follows doesn't disappointment. Get the hardcover, you'll be reading this again later.
A River Runs Through It - Norman MacLean's first book (the last and other, Young Men and Fire, is worth it too.) Forget the movie, though it was worth seeing. This is the work of a man who spent his life studying the language and looking at the world, and didn't sit down to write until he knew exactly what to say.
The Peterkin Papers - A childhood favorite by lucretia Hale - Read it for free, here.
Project Gutenberg - Chris P turned me on to the world of free public domain text, and reading it on a PDA. So far I've been through Hamlet, The Moonstone, and a couple of others. It's a little nerdy, but it's really handy to always have something decent to read. Beats Freecell any day.
New Favorite
Cryptonomicon - Neal Stephenson's 918 pages of pure candy. Took about a month to read, but I was sorry when it was over. Stephenson writes the best geek heroes out there. Catch-22 and Rainman, rolled into one.
Summer Reading
Pest Control by Bill Fitzhugh - cockroaches, crazed hit men, Bob Dylan Lyrics - this book has it all.
What's Bill Fitzhugh up to now? The Organ Grinders will be out in August or September. It's more of a satire than a comic thriller like Pest, but I'm very proud of it. Set in the biotech world of xenotech research -- there's an eco-terrorist on the loose and all heck is breaking loose in the Bay Area.
Avon just signed me to a four book deal, so I'm working on book #3, "Altar Ego."

A four-book deal? I guess my tastes aren't that quirky after all. Here's the cover so you can get The Organ Grinders - an ecothriller about the transplant industry. Bill also has a new book coming, Cross Dressing - I'm afraid, but I preordered! Check out his site at http://www.Billfitzhugh.com





Carl Hiassen's Lucky You - A joint Noah-Lynda Jo pick. Borrowed this from Jon - not my first Hiassen, but the best so far. Like Elmore Leonard, Hiassen understands the full range and variety of human idiocy. Winning the lottery brings out the best (and worst) of several south Floridians.
To be sure, this is the basic Carl Hiassen formula, involving a down-on-his-luck journalist with low tolerance for moronic toady bosses, and a beauty queen of unusal intelligence, as well as the usual crew of tourism promoters, right wingers, and feisty old ladies. But what a formula! Better than John Irving's formula (Freud, bears, Vienna, incest, and mutilation of small children.)

Essays

The Mezzanine - Nicholson Baker's novel takes place entirely between the first floor an mezzanine of an office lobby, while riding the escalator. The chapter on the Men's room (reprinted in the New Yorker in free-standing form) is worth the price of admission. Baker muses on the shaking of sugar packets, the evolution of paper straw wrappers from shootable to squishable, and the hand dryer. For anybody who thinks he thinks too much.


Faster - James Gleick's insightful new series of essays on how absolutely everything is speeding up. How can you not love a book that, on the subject of old visions of the future, interviews June Lockhart. (About the set of Lost in Space.)

Nicholson Baker - The Size of Thoughts Essays on, among others, the history and glory of the nail clipper, and on movie projectors, or specifically the film feed mechanism of movie projectors. As always, Baker lays out an utterly natural, if somewhat unusual, portrait of how the mind wanders. It would be mere musing if he didn't develop each thought in full. But he does, ranging from the rare pleasure of writing on rubber (as in on erasers, or tennis shoes, or refrigerator gaskets) to the evolution of the comma from the earlier virgula.
These essays clear the mind, in part because they occupy so much of it.
Escapism - Yi-Fu Tuan - Yi-Fu Tuan's Escapism (Johns Hopkins University Press, 1998) is a careful but delightful romp around the big picture of human motivation, guided by Tuan's deep sense of what makes people tick (they want to get away!) and
enlightened by his profound knowledge of Oriental and Western civilizations. If you're not already acquainted with Tuan's work, look him up via this link. You'll find plenty to engage and reward your attention.

Riddley Walker -By Russell Hoban. The definitive semantic novel. Riddley is a youngster in a hunter-gatherer society where the major risk is to be "dog et." Written in what resembles Chaucerian english more than anything else, this gives the sense of great age. Only as the book continues does its language become a major character in the book, revealing the history and future of Riddley's world.
Out of print for years, this book shows up in Amazon as slated for release in June of '98. Lucky you! Lucky me, as I no longer have to think twice before lending out my coveted copy of this stunner.
By the way, Russell Hoban is also the author of the children's classic, Bread and Jam for Frances. Thought you'd want to know.
Visit his domain at The Head of Orpheus
Venus on the Half Shell, by Kilgore Trout - Seduction on Shaltoon! Longtime Vonnegut readers (is there any other kind) will be curious about the only extant work from Kilgore Trout apart from the many fragments in Timequake. Actually, it was written by Philip Jose Farmer, an accomplished Sci-Fi writer in his own right. It purportedly pissed off Herr Vonnegut (which can't be all that difficult) but is well worth cracking down. Available for the first time without lurid covers!

Hard to Categorize

My old pal O recommends this one, and I trust him. (Meaning I just bought it.) Here's his review
A Night in the Lonesome October is a romp through a few of literature's most overused cliches done by a writer good enough to make it interesting and fun. Witches, familiars, mad Russian monks, Count Dracula, and many other instantly recognizable characters make appearances, and then whirl and sparkle in an almost giddy linguistic dance (Zelazny does it much better than this paragraph).

The illustrations (about one per short chapter) exhibit Gahan Wilson's trademark whimsical/grotesque style. They complement Zelazneys (very) understated writting well.

All in all, this is a book which is almost impossible to describe. But it is also almost impossible to put down.
Well, I read it, and so did LJ, and once we got past the old D&D cliches, it was thoroughly enjoyable. Pun-laden, worth the considerable effort to follow, and not too long.

Green Shadows, White Whale is a delightful peek into Ray Bradbury. Loosely tying together several short stories, it also tells the tale of trench warfare with John Huston while Bradbury wrote the script to Huston's Moby Dick.
Reference
Brownfields - Rafson and Shlaes (I wrote a chapter) - A terrific, Chicago-heavy sourcebook on this emerging area of real estate practice. An all-star team of developers, brokers, appraisers, consultants, engineers and government officials came together to create this book. It also has an excellent chapter by John Russell.
Healthy Sleep Habits, Happy Child - Marc Weissbluth's book is one of the most important a new parent can have. A child that sleeps means that the parents sleep too. Your marriage, your stomach lining, your child's well-being are all beneficiaries.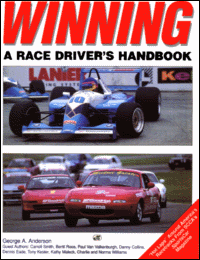 Winning, by George Anderson - This is a very cool book on auto racing by a member of the International Merkur Owner's Network. Believe it or not, I bought a car from this guy. So I must trust him, eh?


American Fried by Calvin Trillin - the source of all knowledge when it comes to Kansas City food. This link takes you to The Tummy Trilogy, the only way you can buy a copy of this classic for now.
Also check out Herman Melville's Benito Cereno - a version of Amistad that isn't PC! Apparently slave rebellions onboard ships weren't all that uncommon around the time of Amistad.
Free Stuff

TALES FROM THE CRYPT: Staired In Horror - By Teller, the quiet half of Penn & Teller - for FREE - This is not a bookstore link.

Dement your children
Edward Gorey did it for me, and it can do it for you. If you want to know how "Uncle Funny Chris" got that way, read on.
Here are the three most important compendia of Gorey at Amazon. I have all three - just the thing to warp young minds.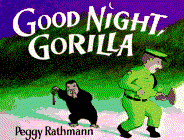 Good Night Gorilla - Peggy Rathman. Jonah picked this one out at Barbara's. The second most amazing thing about this book is the zookeeper's wife's uncanny resemblance to Lynda. But even more so is the classic nature of the illustrations. A teacher once defined a classic as a work that gives you more each time you return to it. If this is so, then Good Night Gorilla is a classic for children. On each reading, they notice new details and plots in the background. Yet this is no "Where's Waldo" for the overstim generation. The soothing watercolors are perfect for the lullaby duty this book sees at our house.

Any of the Frances books by Russell Hoban. Yes, the same guy who wrote Riddley Walker. Hoban has an uncanny sense of the rhythm of children's speech, and insights into sibling rivalry that get across to the kids, no matter how thick-headed they may be. I've yet to meet a kid who wouldn't sit still for one of these.
Max's Chocolate Chicken by Rosemary Wells - For anyone who's ever had a little brother. Max's sister Ruby's frustration mounts while she tries to get him to search for easter eggs. Max takes a more direct approach to getting the chocolate chicken. Perhaps the most enjoyable aspect for children is watching their parents try to read this with a straight face.