Recipes
Sea Scallop and Portobello Mushroom Kebabs
Chicken Breasts in Tomatillo Relish
Chocolate Chip Cookie Secret
Panforte (Italian Fruit Cake)
Those Filipino Chicken Wings
Lobsters
Uncle T's Curry
Where to get them?
My friend Teresa Cecere at Pectic Seafood 207-244-7544 would love to hear from you. She's in Mount Desert, Maine - about a mile from the ocean, though they're at the pier every day. It's not online, but she's the best. She might know about fresh scallops as well, if it's winter. Tell her Shlaes.com sent you.
How big?
For the neophyte, 1-1/2 to 1-3/4 lbs, so you don't have to really dig into the body to get enough meat. Tail, claws, legs is sufficient. Ask for some seaweed to put in the bottom of the pot. You don't need it, but it helps.
When you cook them, bring about 2 inches of water to a rolling boil, with the seaweed in it. Put the buggers in, hold the lid down at first, and steam for 11-12 minutes. You don't need to put anything in the boil, other than the lobsters.
Ask for Hardshells if they have them. These are lobsters that did not recently shed. Shedders (not really soft, but softer) don't have as much meat inside. But they may be cheaper, and they taste just as good.
Did you know that when lobsters shed, they eat the old shell? Wow!
Serving
Use kitchen shears to slit up the back of the tail, and a cleaver to notch the claws. That way you can drain most of the water out in the kitchen, and at the table you can break everything up with your hands. Lobster crackers are still needed for the leg joints on the front claws, unless you're really good.
I went for lobsters with my Dad once. He was downright feral! Now I know where I got it, though I always thought it came from Mom.
Sea Scallop and Portobello Mushroom Kebabs
1/2 lb sea scallops from Sea Ranch
1/2 lb fresh Portobello mushrooms
3-4 fresh plum tomatoes
mint
basil
parsley
sage
Olive oil
Green & white fettucine
Nasturtium blossoms (edible flowers with a watercress-like taste)
Marinate mushrooms in olive oil, cover with chopped parsley, mint, basil Place scallops on skewer with whole sage leaves between
Start the grill. Get it hot.
Bring pasta water to a boil
Over the barbecue, Grill scallops so burning sage leaves flavor them. When the outsides look singed, they're probably done.
and Grill mushrooms (whole)
Simultaneously cook pasta al dente and chop tomatoes. (Or put the pasta in before you run to the yard and grill things.)
When mushrooms and scallops are done, remove, and chop mushrooms to 1/4 inch pieces.
Marry mushrooms, scallops, olive oil, more chopped herbs and tomatoes into pasta.
Garnish with nasturtium blossoms and greens, serve on Amapola (or the china of your choice) with a barrel-fermented Chardonnay
Enjoy!
Chicken Breasts in Tomatillo Relish
(Noah David Shlaes Original)
Serves 4 hungry folks

6 boneless chicken breast halves
2 lbs fresh tomatillos
1 Jalapeno Pepper
2 large white onions
Cilantro to taste
3 ears fresh corn
Gumbo File
Cook the Chicken
Trim the excess fat from the chicken breasts, leaving the rest of the skin on. In a big skillet, fry the chicken with no oil. (If skinless, put 1 tbsp oil in pan) Just keep it moving until it's all white on the outside. Liberally pepper it. Then put the breasts on a plate in the oven at 120-150 degrees. If they're a little pink that's OK - they'll cook in the oven.
Chop the veggies
Take the seeds out of the pepper, and dice it in the Cuisinart. Then set aside 7 tomatillos. What are tomatillos? They're mexican green tomato-like things - they have a husk that you have to peel. Put in the rest, with all the onions and keep pushing that button until it's all chopped up. Toward the end, put in a nice handful of Cilantro.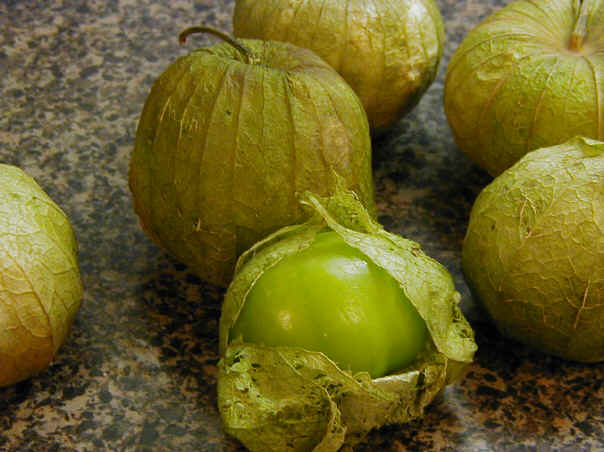 Make the sauce
Put the stuff from the cuisinart in the frying pan, and cook/reduce it for a while. Cut 5 tomatillos in half and toss them in the sauce. (That leaves 2, if you're counting.) Put on a lid for a few minutes, and then take off. When the sauce is still a little watery, add 2 tsp. Gumbo File. Cut the corn off the cobs with a sharp knife and throw it into the when you're nearly done.
Take the chicken from the oven, and cut into strips 1-2" wide. Throw into the sauce. Let stew for about 5 minutes on low and set the table. Then garnish with paprika and thin raw slices of the last 2 tomatillos and serve. Good with couscous, rice or tortillas.
Chocolate Chip Cookie Secret
(Not really a recipe)
Make a batch of the Nestle Toll House recipe, or the recipe of your choice. When you're done, take the dough and put it in an oversized zip-lock back. Close the bag and squash it flat. Then, with your finger, score the bag so that the dough is molded into cookie-sized globs. The freeze it.
Picture this - it's the middle of a rented movie, and you take a break to use the bathroom. Now you can say "would you like a fresh warm chocolate chip cookie?" Just break off a blob, put it on a piece of aluminum foil, and cook it in the toaster oven.
The chicken wings we serve at the annual beer swap meet. You really want to know?
It's a Filipino recipe, or at least we got it from some Filipino neighbors. Sort of a shorthand Teriyaki.
| | |
| --- | --- |
| | 15 lbs chicken legs or wings. Or both |
| | 1 Bottle Soy Sauce |
| | 1 2-liter bottle 7-Up |
| | 1-2 lbs Scallions |
Marinate in a bucket for 3 hours. Barbecue and have a patient guest like Nina keep an eye on them. Serve them up and grab a few for yourself 'cause they'll be gone before they're cold.
Panforte
Panforte is a nut-filled Italian confection that is a cross between a
dessert and a candy. It can be served in tiny pieces accompanied by a
cup
of espresso after dinner. It also makes an excellent gift for those who
love sweets.
1/2 lb. whole almonds
1/2 lb. whole hazelnuts
6 oz. dried figs
5 oz. dark raisins
5 oz. golden raisins.
Rind of whole orange
Rind of whole lemon
1/2 cup flour
1/3 cup cocoa
2 teaspoons ground cinnamon
1/8 teaspoon white pepper
1/8 teaspoon mace
3/4 cup honey
1/2 cup sugar
Juice of 1 orange. (perhaps the one you took the rind from?)
1/2 cup confectioners' sugar
1. Preheat oven to 350. Toast almonds and hazelnuts on baking sheet for
10-15 minutes. Remove from oven and cool. (Duh.) Reduce temperature
to 300. Line and 8" square baking fan with aluminum foil.
2a. If using a food processor - Place figs, raisins, and orange and lemon
rinds into food processor. Mix ingredients and process to Puree.
2b. If processing manually - On a cutting board, finely cut figs,
raisins, and orange and lemon rinds into a paste. Place mixture into a mixing
bowl and stir to combine.
3. Sift together flour, cocoa, cinnamon, pepper, and mace. Add to dried
fruit puree or mixture.
4. In a 1-qt. saucepan heat honey, sugar, and orange juice until sugar
dissolves. Carefully pour hot liquid into the mixed fruit puree, flour,
and all that. Add toasted nuts , stir to combine.
5. Place fruit and nut mixture in the lined baking pan. Bake in
preheated oven 50-55 minutes.
6. Cool in pan 10 minutes. While Panforte cools, dust a 12" square of
foil with 1/4 cup confectioners' sugar. Turn Panforte upside down onto
coated foil and peel back foil used to line the pan. Dust top with
remaining confectioners' sugar. Cool completely.
7. Turn off the oven. You don't want to start a fire, now do you?
8. Cut into 1-inch squares and serve immediately. Or, cut into
quarters, wrap it up, and inflict it on friends and relations.
Remember, friends don't give friends fruitcake. They give them Panforte!
Uncle T's Tasty Hybrid Curry Mix
This recipe is a combination of Richard Kent's Bengal Curry (from Craig Claiborne's New York Times cook book) and David Schoen's vast experience in INDIAN recipes and service. Serves six.

THE RECIPE
| | |
| --- | --- |
| | 4 lbs cubed lamb shoulder or lean beef (eg, lamb leg or shoulder) |
| | 3 - 4 Tbl Curry powder |
| | 1/4 c butter 1 tsp crushed dried mint |
| | 2/3 c chopped onion, fine |
| | 2 c milk |
| | 1/2 c fresh coconut milk (ie, 1/2 c coconut soaked in 1/2 c milk for 20 min.) |
| | 3 Tbl chopped crystalized ginger |
| | 1/2 tsp sugar 1/2 c grated fresh coconut |
| | 1/8 tsp fresh ground black pepper |
| | 1/2 c heavy cream |
| | 1/2 c diced celery 2 c diced apple (granny smith) |
| | 3 diced small bananas 2 clove garlic |
| | 1 c diced peeled tomatoes |
| | 1/2 c beef stock |
| | (1 tsp vinegar; to taste) |
| | 2 tsp salt |
Cook onions (five minutes) until tender, remove and set aside.
Brown one inch meat cubes.
Add cooked onion, ginger, sugar, pepper, salt, curry powder, celery, apple, banana, garlic, tomatos, milk, beef stock and mint. Mix well and simmer covered one hour over low heat.
Add coconut milk, grated coconut. Cover and cook five minutes. Add lime juice, then cream. Cook without boiling for ten minutes. (Add vinegar to taste.)
Serve on hot, fluffy rice with garnishes.
GARNISHES
| | |
| --- | --- |
| | Tomato Sambale (ie, chopped tomato, green onion, 1/2/ clove garlic, jalapeno, salad oil, chopped fresh coriander.) |
| | Cucumbers in yoghurt with cumin and black pepper |
| | Chopped peanuts |
| | Toasted almondsToasted coconut |
| | Candied ginger |
| | Chopped parsley |
| | Chutney |
| | White raisins (plumped in cognac) |
| | Grated orange rind |
| | Nutmeg |
Uncle T's Curry Ingredient List
| | |
| --- | --- |
| | 1/2 c beef stock |
| | 1/4 c butter |
| | 1 tsp crushed dried mint |
| | 3 - 4 Tbl Curry powder (add some during the second half) |
| | 1 c diced apples (granny smith) |
| | 3 small diced bananas |
| | 1/2 c diced celery |
| | 1 c diced peeled tomatos |
| | diced tomato (for garnish) |
| | 3 Tbl chopped preserved or crystalized ginger |
| | chopped fresh coriander |
| | 2 clove finely chopped garlic |
| | 1/2 clove finely chopped garlic |
| | 2/3 c finely chopped onion |
| | 1/2 c fresh coconut milk |
| | (ie, 1/2 c coconut soaked in 1/2 c milk, 20 min.) |
| | 1/8 tsp fresh ground black pepper |
| | 1/2 c freshly grated coconut |
| | 1/2 c heavy cream |
| | 4 lbs cubed lean lamb shoulder or lean beef |
| | 2 c milk |
| | rice |
| | sliced cucumbers |
| | sliced green onion |
| | sliced jalapeno |
| | 1/2 tsp sugar |
| | (1 tsp vinegar; to taste) |
| | Chopped peanuts |
| | Toasted almonds |
| | Toasted coconut |
| | Candied ginger |
| | Chopped parsley |
| | Chutney |
| | White raisins (soaked plump in cognac) |
| | Nutmeg |
| | yoghurt |
| | cumin |
First made in March 1988