Puerto Vallarta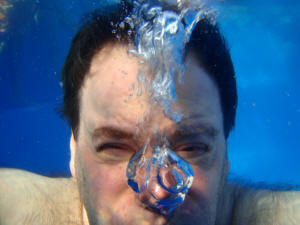 Ahh, Puerto Vallarta. Sure, it's a tourist trap, but of the various Mexican tourist destinations, it's our favorite here at Shlaes.com. When we look in Mexico travel guides, this town rates about three pages, all listing the same Hard Rock Cafe and ACA Joe. Yuck.
Forget about Hooters. Forget about Elizabeth Taylor. Forget about, well, you know where that was going. Anyhow, here's a list of the things worth doing.
Disclaimer
This only looks like a travel guide. We haven't updated it since 2001, and we don't always go back to see if a place is still good, or even if it's still in business at all. There may be better stuff out there, but hey, this is a free service. If we felt like taking a picture, here it is. If you want a point-by-point comparison of all the competitors, updated recently, get a travel guide. They're worth it. But if you want to know what we do, here it is. Print it out, stuff it in with your passport, and you might find something cool!
Basics
First thing to remember - Hotels and airfare cost real money. Nearly everything else is cheap cheap cheap! Food? Booze? Knickknacks? Coconuts (with rum?) Tequila is starting to get expensive, now that Gringos like it (having moved on from cigars) but it's still a bargain.
Not a lot of major airline nonstops to PV. That's because the charters and tour groups own the low end market. so you're changing in Dallas or Mexico City or Guadalajara. Not a big deal.
We get hotel rooms in block leftovers from Apple Vacations and the like. It's a good deal.
Get a Map by clicking here!
A Great Travel Guide
Most are worthless, but this one has an awful lot of information on the obscure areas surrounding the city. Check it out
Where to Stay
This is not an expert opinion. Just a coupla facts.
Check with a travel agent - you can pick up a package deal through Apple or others, and get excess rooms cheap. Hacienda Buenaventura, near the airport area, is clean, has a good pool, and low-cost. It shares beach privileges with the neighboring Krystal.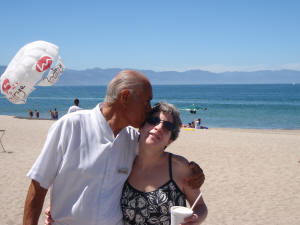 I wanted to hate the Krystal - big, glitzy, but the best beach in the area, and Jose Ramirez on the beach. Ask him for a coco loco, and relax. But remember, people get a little territorial about their beach chairs. Last time, this chick came back to a chair that she'd left for several hours. She marched up, and said "where's my book? Where's my bag?" Well, I'd moved them, and I told her so. "But I was here first, it's the rules!" Well, I let her know that I wasn't aware that we were supposed to worship before the shrine to her books, her bag, her saintly absence. But I had learned my lesson. "Oh, good." Yes, my lesson was that next time this happens, my answer will be "What book? What bag? These chairs were empty."
Anyhow, the place has a great pool, with those in-pool loungers and stuff, and fish tacos on the beach, and other pools where you can swim an honest mile without running into a million little kids and all. It was a cool experience, and a great place to stay. Downtown has funkier places, but busier beaches. And it has Sr. Ramirez, the beach barman, who's been there longer than I've been going. It was there when the Krystal was the Posada Vallarta, and he remembers it all. (See left for an example of exemplary service!)
For a much quieter experience, check out Sayulita - about 35 minutes north of town, and very secluded. As of this writing, you can rent a nice house for about $200 a night. Terrific beach, but you'll need your Spanish. I'll ask Steve to write a review after he gets back. Info at http://www.sayulita.com Also there's a cool art store, La Lupita, Playa Azul #2.
Playa Destilladeras -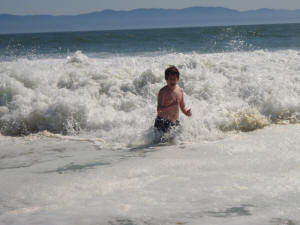 for the adventurous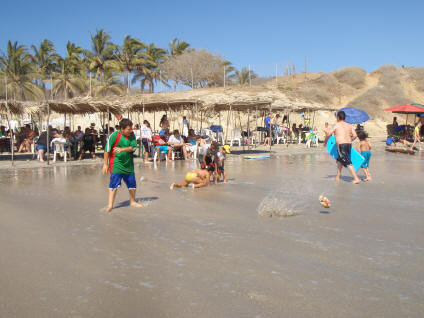 Great beach - recommended by Lisa and Paul - Playa Destilladeras (bootlegger beach?) - Drive north, and take the left on the road to Punta de Mita. But first, steal your hotel towels, then stop at the Super Pollo by the Gigante store before you go out of town, pick up extra potatoes, and then make the 40-minute drive. You can get sodas at the beach. Great surf, a big mexican scene, and you can get a fantastic paleta at the place near the church in Cruz de Huanacaxtle on the way back - get the Tamarindo or Jamaica.
Shopping
Always go to Lucy's CuCu Cabana & Zoo -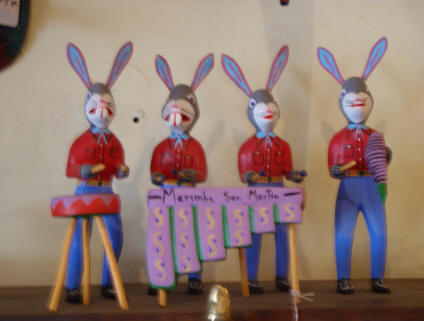 Cheaper, hipper, and more specialized. Great miniatures, dioramas, and Lucy herself. And her writer husband, Gil Gevins - Basilio Badillo #295, phone/fax 322-2-48-39. Get yourself some wonderful, whimsical stuff that they pick up during the off-season. They scour the country looking for the best stuff, and Gil chronicles the trip in books like Refried Brains and Puerto Vallarta on 49 Brain Cells a Day. And you can get breakfast at Memo's first.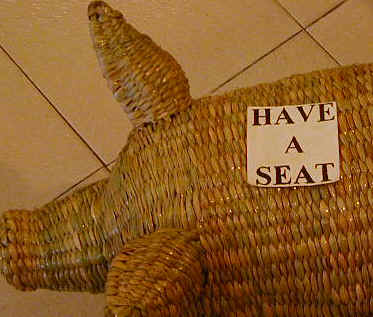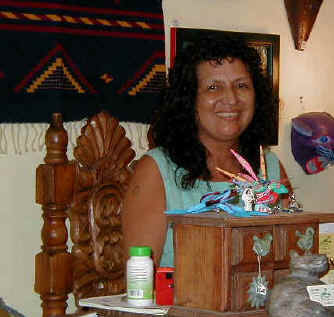 Gutierrez-Riso - on the first floor it's a grocery store, the second is sort of like a Woolworths. You do remember Woolworth's, don't you? Anyhow, you can find that cool blue-rimmed soda glass barware here. CHEAP! Also those wierd painted pigs that seem to show up in Chinatown as well. Go figure.
Artes Mexicanas- You'll need the car for this one. This is a store that has both Volkswagen parts and Michoacan guitars. Really. I got the Guitarron from them. Fat chance finding someone who knows anything about the merchandise, but hey, it's the same at any Best Buy in the US, right? Corner Honduras y Colombia. Ph. 2-05-25. (new 2008) - we got a new, very thin classical guitar called, get this, la Anorexia.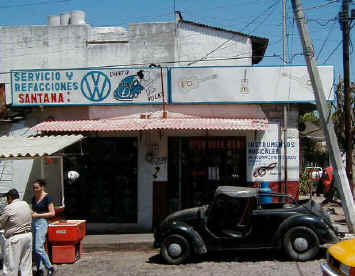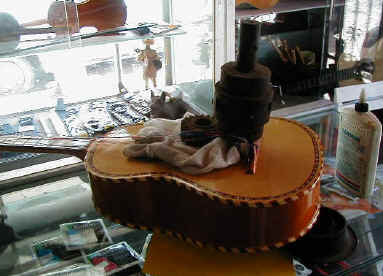 Querubines - As for Sol, she's the best. Art supplies, table linens, clothes, art, fun stuff. A huge store, bigger every year. Galeana between Juarez and the Malecon. Juarez 501-A Tel 2-29-88.
Miniatures - La Tienda de Maria, Juarez No. 182-A Tel. 2-21-16 Don't know the name, but look in a local guidebook for the store with Dia de los Muertos stuff. It's a little wider than its doorway, but you will buy something. Not far from Nevaj. It's about four feet wide, on the corner of Juarez & Galeana. Or check out the much larger Galeria Indigeana - Juarez 270
Women's Clothing - Boutique Nina y June, Hidalgo No. 227-8
Snacking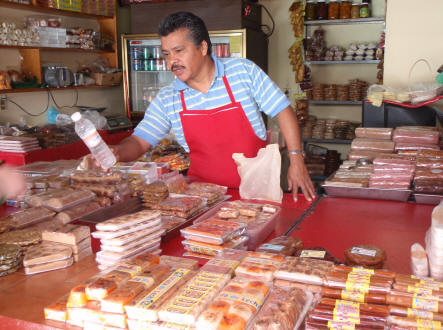 Mexican Pecan - Over by the guitar stores etc., on the street coming into town. Gooey, messy coconut, local candies, and it's across from Alfaria Tlaquepaque - a great place for cheap, authentic mexican souvenirs.
Gotta go to Malibu Jugo Bar, at the south end of the Malecon. Yummy sandwiches, like Torta Cubana, but go for the juices. We go daily when we're in town. Especially the combo with Carrot and Mandarin Oranges!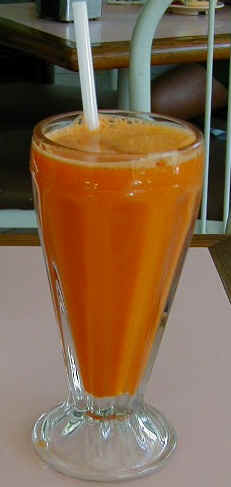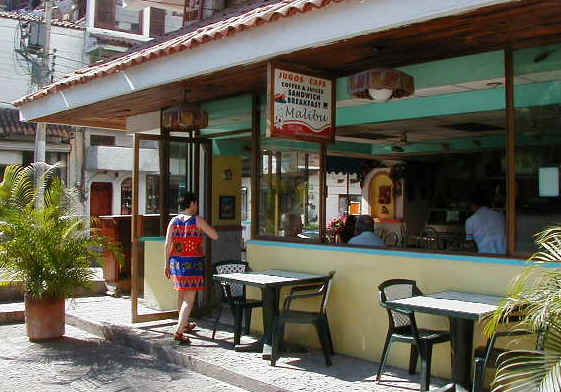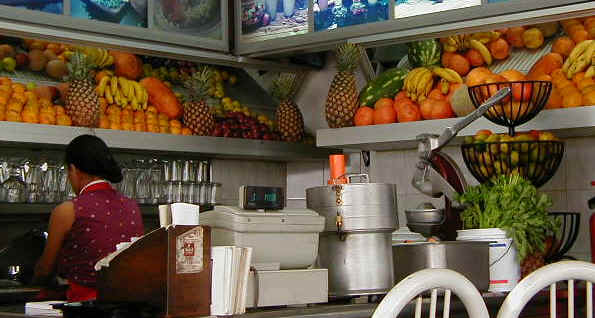 Posole - Don't know the name, but there's a Posoleria directly across the street from the entrance to the church. It's practically free, wonderful soup made with dried corn and broth made from who knows what.
Dining
Sure, you've been to El Set, you've been to Chico's Paradise. Now, time to get serious.
(Update 2008 - We went to El Set on the way back from the Canopy Tour, and arrived just at sunset. What a great surprise - a Mexican interpretation of continental service - terrific steak and swordfish, and of course the view. Recommended.)
Restaurante La Loma - 12.8 km south of the Hotel Playa Careyes cutoff, about 100 miles south of town. Really. It's run by our buddy, Jose Toscano - Tell him Noah and Lynda sent you, and have at least two kinds of Ceviche. Hey, it's on the way to Manzanillo, right?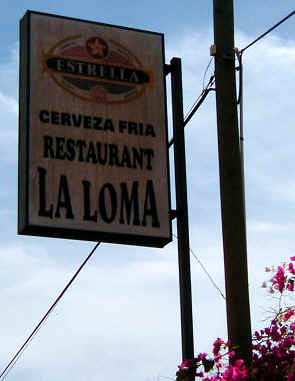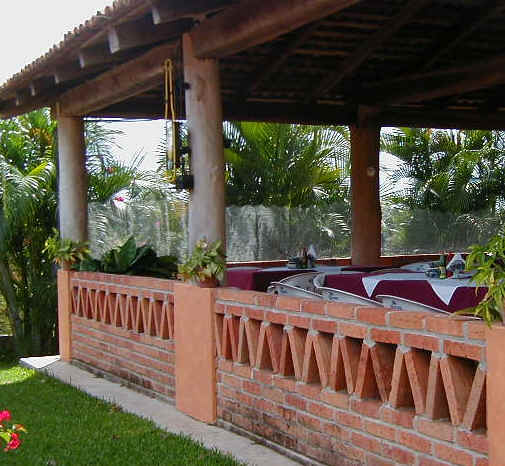 Cafe des Artistes - The fanciest meal we had in town. But worth it. Check it out Their site says it better than I can. When you reserve, look for the garden. Guadalupe Sanchez 740 - Phone 2-3508
Note - this one is not subject to my earlier statement about cheap eats in PV. But check their site for more info.
Pozole and other street food
Two recommendations from Carmen - Trust us
El Taquito HIdalguense - on Colombia near Panama - actually around the corner from the guitar store. Have the lamb barbecue, or the huarache, and definitely the lamb broth (consome). They cook the food out in the street, but keep an open mind
.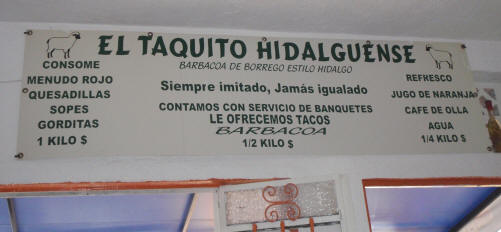 Marisma Fish Tacos - 320 Naranjo betweek Basilio Badillo and V. Carranza - 10 AM to 4 PM, near the small tunnel on Badillo.
y mas...
Cenaduria Celia - Muy autentico. About $8 for dinner for two, and the best damn tamales we've ever had! Great posole too. Good luck finding it!
Wait! I found the address! Lazaro Cardenas 506, at Naranjo. Closed monday and tuesday. Also, there's a little Posoleria across from the entrance to the Guadalupe church. Practically free. (What's Posole, you ask? Well, it's a rich soup made from broth of who knows what, and corn treated in Lye. Really)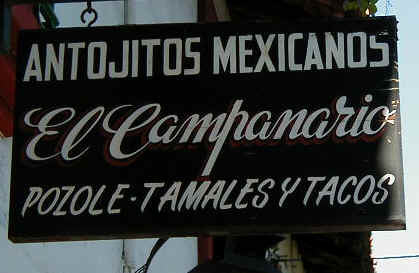 Pozole - the corn isn't just dried, it's cured in Lye. Just like that other great delicacy, Ludefisk. Anyhow, the meat, I'm told, is supposed to be pig head meat. Whatever, it's just the thing when you've been poking around town all morning. Dump in the raw onions, lime and cabbage, and have at it. Note - it's not on the memu, and most places that have it don't even have menus. But if you go to the one near the church, they'll talk about tacos and sopes, and won't mention Pozole. Don't worry about it - just say Pozole (po-SO-lay) and eat whatever comes.
Grown up food
New 2008 - El Arrayan - Carmen Porras runs this, the only beachhead of Slow Food in Puerto Vallarta, and fills it with regional foods that she selects herself. Get the duck carnitas, an Arrayan Margarita, and some of the house-made ice cream. Allende #344 esq. MIramar 52(322)222 71 95
New 2008 - Don Pedro's, in Sayulita - Boy, has this town grown since the last time we were there. Take your rental car and drive north, and keep going until Sayulita - then just ask someone. Find it at http://www.donpedros.com/en/ - and give yourself a little time. Maybe go there early and watch the surfers for a bit.
El Palomar de los Gonzales - On Aguacate Street, way up the hill from Basilio Badillo. Go one street beyond, several blocks uphill, and cut back. You'll understand when you get there. It's a surf and turf kind of place, sort of 1950s style Mexican version of a place your parents might have taken you. Mostly outdoors - ask. On a hill overlooking the town below. Great service, among the best in town. Solid menu, not too exotic. Skip the oysters - they're those huge mexican ones that taste like clams. Last time it was about $50 for two with wine by the glass. Check it out
Don Pedros - (Check it out) In out-of-the-way Sayulita - Spectacular view, great fish, and you won't run into any Mullets there.
Memo's - On Basilio Badillo, iIn viejo Vallarta, next door to Lucy's Cucu Cabana. By day, it's a breakfast joint, named, of all things, la case de los Hot Cakes. Waffles, pancakes, cheap cheap cheap.
2008 - Memo's is back to just breakfast, still highly recommended. At night, traditional mexican food. No, not the stuff from the 5-gallon bucket of Mole we saw on the highway. His mole comes from more than 30 ingredients, takes a couple of days to make. Also try the Albondigas - yes, meatballs. Each with a hard-boiled quail egg in the middle. LJ loved them, and she thought I was crazy. You're ordering meatballs? Also, try the huauzontles - like a chile relleno, with no chiles. Gotta have them to believe them. See instructions below.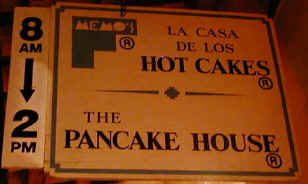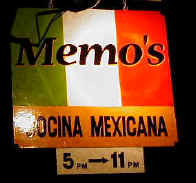 Mariscos Tino's - Off the beaten path, in El Pitillal - Take a taxi, or ask your concierge. About 20 minutes North of town. Calle Avenida No. 333, El Pitillal. Tel. 4-55-84.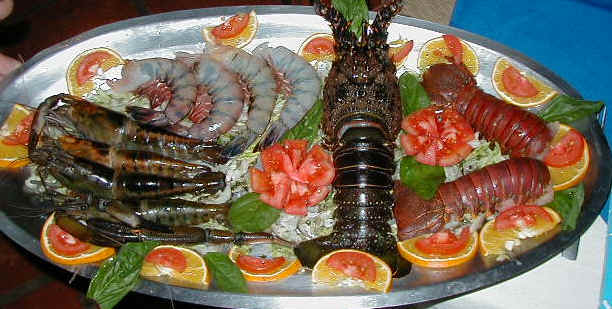 Entertainment
Zapata, upstairs on the Malecon. Open windows onto the Bahia de Banderas, great south and central-Americano music, with pipes and wierd guitars and drums made of turtles. The house band, Taijin, is a lot of fun. Ask for Nestor, the most serious-looking one who can play most anything. Tell him that guy who buys little guitars from him every couple of years sent you. Check it out - There's a picture of Nestor (he's the one on the right.) It's at Paseo DIaz Ordaz 522 (the Malecon) -Phone 2-4748
Go early, and it's kid-friendly. The food's pretty good, the windows are open, and the band will let the kids play the panpipes sometimes. Tell Nestor I said hello. I'm the nutball who bought the Charango and the Cuattro from him.
Le Bistro - A jazz bar on the Isla Cuale - enter from the lower bridge. Great setting, good for an Irish Coffee at the end of an evening. Great brunch as well, looking out at the river. Forget about your diet. Isla Rio Cuale 16-A Tel 2-0283 Check it out
What's this Raicilla anyhow?
Well, we're not sure. Nor are we sure whether it's Resilia, Rasilia, or Brasilia. It's a distilled spirit made from the burnt flowers of the Agave cactus. As far as we can tell, it's basically Hooch - no one will sell it to us, but a lot of people seem to have it. Or at least wink knowingly when you mention it.
Wait! I found out what it is! Raicilla! Here's a cool link to learn more! And Another on Puerto Vallarta and three more http://www.virtualvallarta.com/vallarta/articles/sf-raicilla.html http://www.vallarta-info.com/firedboss.html http://www.vallarta-info.com/puertovallartafactsfables.htm
Update - Had some last night, aging in the Kahlua bottle (that's how we got it home) for at least three years. Wow! It's getting more complex, smoother, easier to drink, and maybe a little sweeter.
3/01 Update
Raicilla? I think I've got the story straight this time. It's made with the same process as tequila, but it's made from the Maguey cactus, which grows south of PV, as opposed to the agave, which grows to the north. It's made by the local indians, and isn't labeled or bottled in any particular capacity. Don't try to buy it in a store - they can't sell it. Moonshine, really, with very inconsistent quality. But if you go into El Tuito, about 45 clicks to the south of town, and ask around, you'll find some. It's woth it - clear, smoky, a little bit sweet, and well, just not the same as tequila.
Driving? What are you, nuts?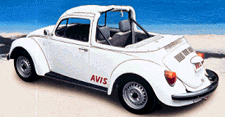 Actually, no. We get a car every time, and have a ball. Usually one of those chopped VW Beetles (the old ones, with just a keyhole and a speedometer.) They're air-cooled, so there's almost nothing to go wrong. Last time, we got a Chevy (pronounced "tchebby") made by GM - slicker than the Beetle.
Check out its prodigious luggage capacity
You never know what you're going to see on the road next to you.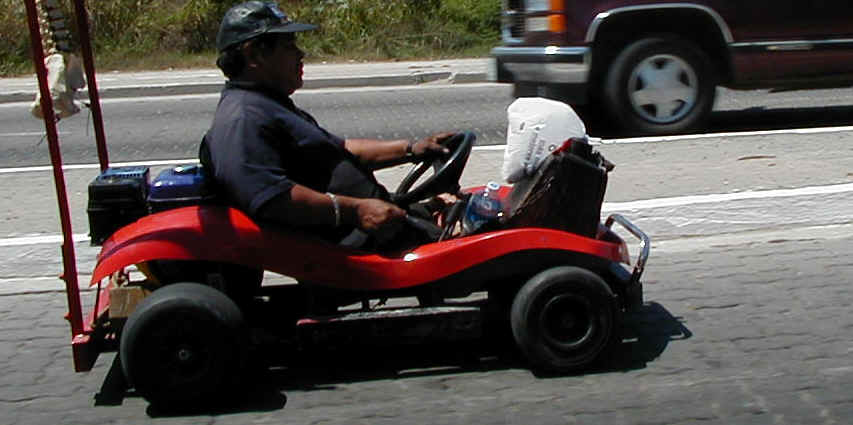 Just be assertive, and stay awake. The cars are practically free (I got a great prepaid weekly rate from Avis.) so what the heck. It means you can stay at a big hotel with a cool pool and still be free to bop downtown every night.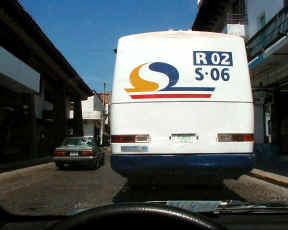 The biggest risk? Getting behind one of these babies when you're trying to cross the Sierra Madre. And staying behind it. My advice? If you're headed south on 200, there's no chance to pass the sumbitch between Chico's Paradise and El Tuito. So drop down into 4th, hang back enough that the diesel exhaust won't give you a headache, and try to get into a manana frame of mind.
Traffic in town isn't too bad, except on the Malecon around sunset. Especially on weekend nights, when the locals come into the city for a good time. But later, earlier, no problem.
If you get pulled over, use my sister's universal advice - it worked in france, it works in Mexico (albeit a little differently) - Don't speak Spanish, no matter how well you can. If you stay in Ingles, you get to listen. Best of all is to hold up your ID and say "I am an american - here is my ID." You'll get a song and dance about going to the police station, and a big fine, so just look sad and explain that you can't be there tomorrow, you have to be in Mixtahuacapoteclahuacan or something, and they'll keep explaining that you can pick it up tomorrow at the police estation.
Then, WHEN THE TIME IS RIGHT, ask innocently "is there any way I can pay this now?" The guy will get all shy, and explain that you won't get a receipt (as if I was going to deduct this on my taxes or something) and then you've got him. Hey, I was even able to dicker on the exchange rate!
Looking for something a little different?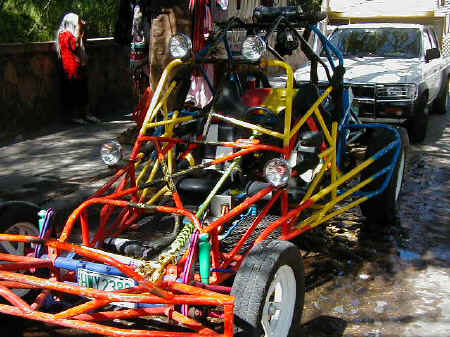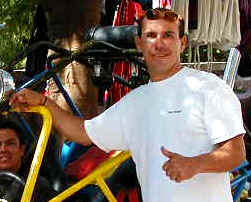 Erick rents these carts, which you drive, in packs, through river washes outside of town. We didn't try it, it was our last day, but it looks like a blast. He insists it's safe, since each car has its own fire extinguisher!
Here's some more great driving advice.
Television
Let's face it - we all watch TV overseas. No matter how culivated the participants, any conversation about italian vacations. will start out with the David, the Ponte Vecchio, the vineyards, but will turn to "there was this show, you know, we flipped on the TV for a few minutes while we were getting dressed," Sure, and if you saw it in People, it's because you were at the doctor. If nobody actually buys it, how do they stay in business?
So while you were getting dressed, there was this show you say, Colpo Grosso! A man and a woman playing 20 questions, losing clothing at every turn, with the Solid Gold dancers and a singing MC in a Tony Orlando tux! So, mister smarty pants, if you were just just watching while you got dressed, how do you know that the girl always loses? Eh?
Anyhow, in a hotel full of people seeking the perfect deep tan, there was and infomercial for something that, if I understood correctly, makes your skin lighter. Lighter?
Shows that work better in spanish
| | |
| --- | --- |
| | Rug Rats |
| | Anything with Fran Drescher |
| | Steven Seagal movies |
Handy Phrasebook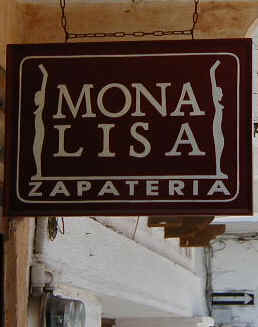 Zapateria - Restaurant focusing on microwaved food.


This is the national headquarters of the Ferreters Group. Since ferreting is a secret in Mexico, the large word below warns people to keep silent!
Ferreteria - Pet shop specializing in ferrets.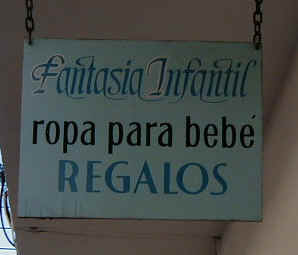 Ropa para Toda la Familia - Too horrible to even think about. But Lizzie Borden would have loved it.
Paradas Continuas - This reflects the movement for more frequent street celebrations. The party supporting this seems to have limited support, and all that remains of their brief campaign is the exhortations affixed to the backs of trucks and buses.
Have fun. We do.
Gone but not forgotten - these are old reviews of places that are gone now. Why not delete them? I dunno.
Check out Nevaj, a wonderful gallery of arts and crafts, with those great crucifixes covered with wierd little metal findings. Also dioramas, triptychs, and Oaxacan nighmare figures. I don't know the address, but it's been around for years.
Galleria Taijin - On Basilio Badillo around the corner from Lucy's - my buddy Nestor has a music store! Venezualan, Bolivian, and Michoacan guitars, with accessories. He brings them in himself. See them in action at Zapata. Ignacio Vallarta No. 335-B Tel. 25558