Kansas City - Vacation Wonderland
Kansas City, you say? Well, it all started after reading Calvin Trillin's American Fried, Adventures of a Happy Eater, which begins with the phrase "The best restaurants in the world are, of course, in Kansas City. Not all of them; only the top four or five." This prompted a trip that we take from time to time, for a weekend of eating, shopping, and visiting.
Barbecue
Arthur Bryant's The original and only, formerly Charlie Bryant's, at 1727 Brooklyn - (816)231-1123
Don't make the mistake we did - Don't call for reservation - they thought it was pretty funny. But do check the hours.
The sauce is dry, almost Tandoori-style, red, but more peppers than tomato. But the real draw is the meat. Ribs are available in both short and long ends (pork) or truly monstrous beef ribs. Both are delightful, but make sure somebody orders the brisket. Make sure. And did I remember to say to order the brisket?
If you order a sandwich, don't expect to be able to pick it up. A rib sandwich is wonder bread, surmounted by a slab of ribs (on occasion they thoughtfully cut it into two pieces) with bones in place, and another slice of wonder bread. Pickles are on the side. Think of it as a dumpling (czech dumplings often resemble smushed Wonder bread) and get to it! The fries are skin-on, hot, and greasy - a guilty pleasure that rounds out this sinful meal.
The beer is cold. Very cold.

Gates & Sons - Now a chain, but still worth the trip. This is a sweeter sauce, still piquant, available in a fast food style setting. Some prefer the sauce, and I do on occasion. Also very cold beer.
My favorite is at 3205 Main, in KCMO - 816-753-0828
Fiorella's Jack Stack
If you insist on having a tablecloth, this is the place to go - knowledgeable staff, cool room, great food.
101 W 22nd St, Suite 300, Kansas City, MO 64108 Tel. 816.472.7427
Chicken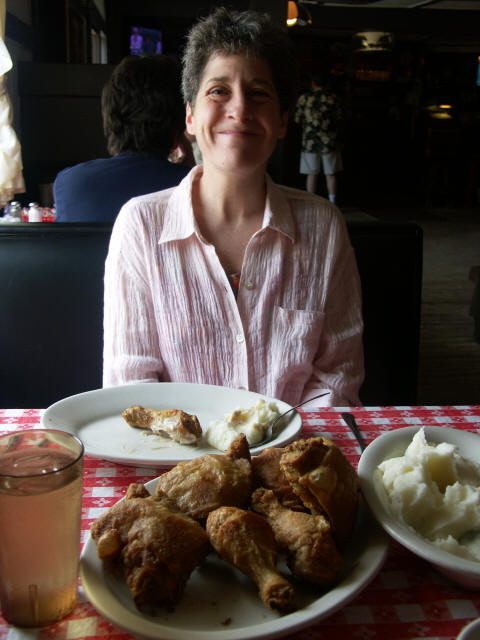 Strouds, home of Pan-Fried Chicken - it takes a half an hour, but worth it. There are two Locations, one way south on Troost at an underpass, another over east of the airport. Both are great, I'm not sure which is the original. 85th & Troost - 816-333-2132
Their hours are a little weird, so it is not easy to get Stroud's packed to travel. You're gonna eat it there.
Make sure to get sticky buns, and a side of fried livers. Yummmm.
Other
Winsteads
Go in and have a fresh lime coke, a hamburger cooked on a greaseless grill. The Ward Parkway restaurant is a nice break.
Princess Garden
Try the pulled noodles - I got this one from a Missouri Judge. Some of you may remember him.
Lidia's
A New York Italian restaurant in Kansas City? Heck yes, and a great one at that - 1022 W. 22nd, KCMO 816-231-3722
Webster House
If your belly needs a break, and you want fancy sandwiches and antiques, this is the place. A great lobster mac & cheese with a salad, like that. And it's in a cool artsy-fartsy neighborhood called Crossroads. 1644 Wyandotte, (816) 221-4713
Museums
Save-a-Connie
Not a restaurant, an airplane - and a museum- at the municipal airport. A bunch of friendly nuts that ended up with a Lockheed Constellation airliner. They're doing it by hand, one bolt at a time. They have great hats and models, too!

Johnson County Museum
http://www.jocomuseum.org/ - This is effectively the best museum of the American Suburb that I've ever found. And it's worth seeing the fabulous 1950s all-electric house