Goldberg Gentle Lady Electric Conversion
I had an older Gentle Lady that I built years ago, and flew briefly with a homemade Hi-start, with mixed results. It was my first glider, and there was a lot I didn't know. After a few short flights, I put it away for ten years or so.
In that time, batteries got cheap, and motors got cheap, and it was time to put it back in action. So I got online, did a little research, and made a few guesses. Turns out they were pretty good guesses. I'm not saying this is the best possible configuration, but it works pretty well. So here are the pieces:
Process
| | |
| --- | --- |
| | Build a straight-up Goldberg Gentle Lady |
| | Allow to age for 10 years |
| | Saw off the nose just behind the nose block, allowing for 6 degrees right and 7.5 degrees down thrust (same as a Goldberg Electra) |
| | Move the servo rails aft to make room for the battery - kept the rear rail where it was, and moved the front rail aft. |
| | Cut a lite-ply firewall and drill it for motor mounting. |
| | Mount the motor to the firewall - the motor goes inside the fuselage, not outside. |
| | Test-fit firewall and mark it to trim for the fuselage |
| | Unmount the motor, glue the firewall to the fuse with epoxy |
| | Add scrap balsa trim and sand down to a nice curve |
| | Mount the motor and set up the prop. I put a thin balsa sheet behind the spinner while I tightened it to get the necessary clearance, and it holds on fine. Remove the spacer once it's tight. |
| | Secure the wires from the motor so they don't touch it when it's running. (Note, the outrunner bell is inside the fuselage) |
| | Mine balanced with the battery pack jammed under the forward bulkhead and front of the servos. I had to cut out the bottom of the front bulkhead. I installed a balsa block with velcro in front of the battery to prevent it shifting forward in flight. |
| | Balance it, and |
| | Go fly |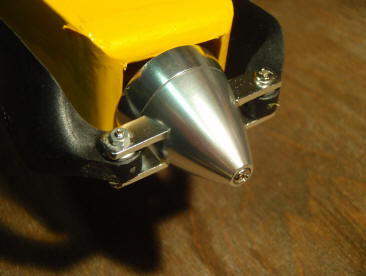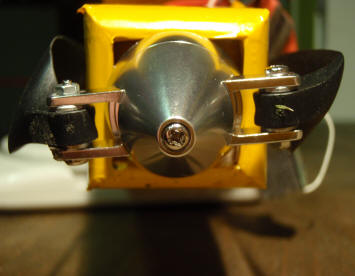 f
Power setup - All from Hobby King - $70, including a battery
| | |
| --- | --- |
| | Controller - 1x #TR_P30A/2164 TURNIGY Plush 30amp Speed Controller $19.46 |
| | Spinner - 5556 Folding Prop Spinner 30mm / 3.0mm shaft = $3.50 |
| | Battery - 6307 ZIPPY Flightmax 1500mAh 3S1P 20C = $22.50 |
| | Motor - 2106 KD A22-20L Brushless Outrunner Motor = $16.79 |
| | Prop - 7983 TGS 10x6F Precision Folding propeller = $5.99 |
Flying
All-up weight came in at 29 ounces, which is about 4 more than the stock specifications. It doesn't seem to be a problem, and the wing loading is still 6.3 oz/square foot. Still great for a two-meter glider.
Once you get used to it, you won't need a second battery. If you find a thermal, you can stay up until you get bored. I use three rubber bands to hold it together, could probably go with a fourth but I've found no need. It's a floater, and a smooth flyer, but I've flown it in as much as 12 mph wind, and it was OK. What can I say, it flies like a beginner's glider, good for learning the basics, or introducing a friend, or just relaxing.
I had wondered about ventilation, but neither the battery nor the motor ever get hot, so I left it alone.
Hand-launching is easy - toss it forward and flat, and you've got plenty of time to find the sticks, give it throttle, and pull up a little. I keep the throttle maxed at 75%, and the climb is significant but not vertical. Then at about 300 feet, power off and go hunting for thermals.
No flaps or spoilers, so you'll have to learn how to manage the float so that you don't overshoot your landings. The downthrust means that it doesn't balloon much when you hit the throttle - you'll have to give it some elevator to get it to rise.